How to make a bedroom look modern: the best Made in Italy design brands
It is important to pay proper attention to the decor of any room, but of the bedroom in particular. This is the most intimate space in the home, a reflection of the personality of the person who lives there: a place where aesthetics, comfort and functionality should be in balance with each other and where the owner should feel completely at ease.
Moreover, the bedroom is no longer seen only as a "room to rest," but is increasingly experienced as a place to reflect and relax, if not even a place to work more quietly. Not surprisingly, today's bedrooms often feature reading corners and even dressing rooms (with the installation of modern luxury walk-in closets, for example) to make this space more flexible.
Precisely because it must be an elegant, comfortable and efficient room at the same time, the preferred style of furniture is usually more modern, sober and simple than that of the other rooms in the house. There are those who prefer minimal lines, those who want to opt for a particular combination of materials and colors, others who do not want to give up ornaments and elegant details, and those who cannot do without a modern walk-in closet, while still maintaining a contemporary mood.
Be careful, however: you run the risk of having an anonymous decor that lacks personality. How to make a bedroom look modern, without falling into banality?
The answer is to rely on Made in Italy, which has always been synonymous with originality and high quality. In this article we propose some of the best Italian design brands that also make furniture for the sleeping area.
How to make a bedroom look modern with Made in Italy brands
Poliform, "cultured and contemporary beauty"
Founded in 1970 in Brianza (an area that played a leading role in the birth of Made in Italy), Poliform is an icon of Italian design, and its projects have always been based on solid technical knowledge in order to create furniture and objects that blend into the environment in which they are placed. Its furniture style can be defined as "minimal elegant".
Flexform, "aesthetic expression"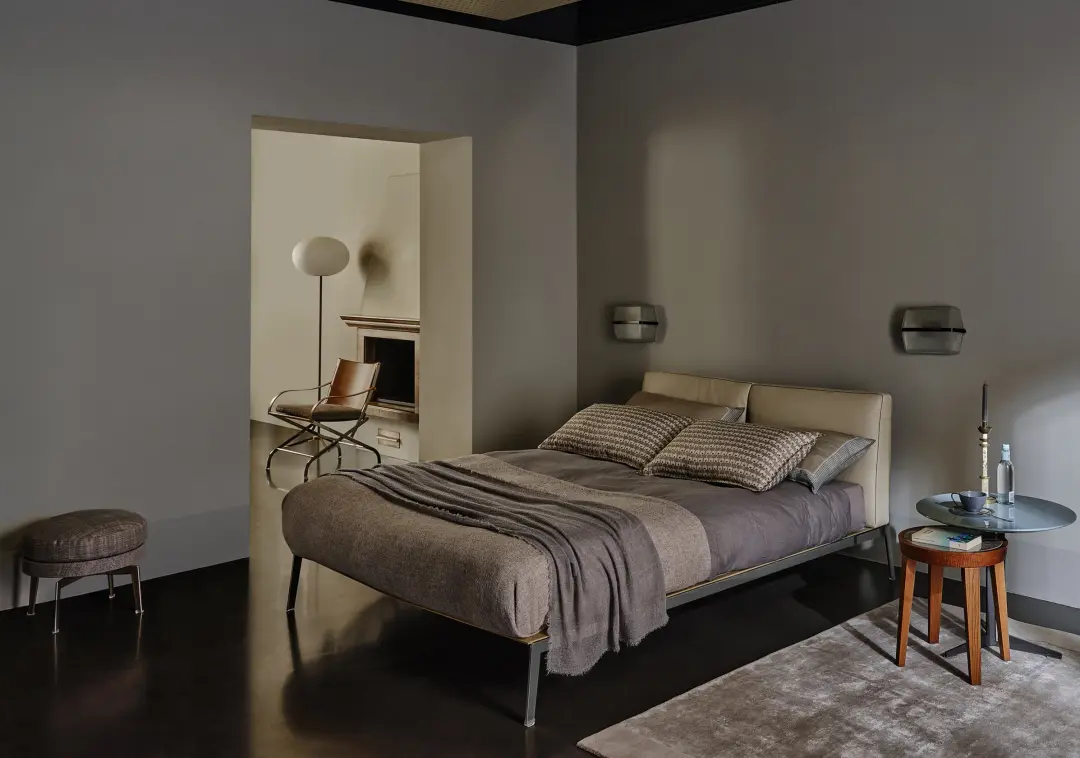 Flexform was born in 1967 from the transformation of a craft workshop into a real industry. The focus of this company is sofas, but furniture for the sleeping area is also designed, characterized by an elegance that is not gratuitously lavish: luxury, with Flexform, is seen in the sobriety of the furniture and good taste.
Cassina, "memory, research, innovation"
Cassina has more than 90 years of experience in the furniture industry and is one of the most prestigious companies in Italian design.
How to make a bedroom look modern? With Cassina furniture you will have a harmonious and comfortable room, where you can relax and spend pleasant hours.
B&B, "contemporary culture through design"
The B&B Italia group was founded in 1966 and to this day is known for its ability to combine cutting-edge design and technological innovation, designing versatile and detail-oriented furniture. It is also particularly attentive to the evolution of taste and new living needs.
Meridiani, "home is a dress you wear"
Started in 1996, Meridiani offers a recognizable style that is the result of the combination of craftsmanship, technical knowledge and deep understanding of manual procedures.
Meridiani prefers a contemporary and innovative elegance, which is not afraid to experiment with new textures and materials: here's how to make a bedroom look modern.
Porada, "the love of the wood"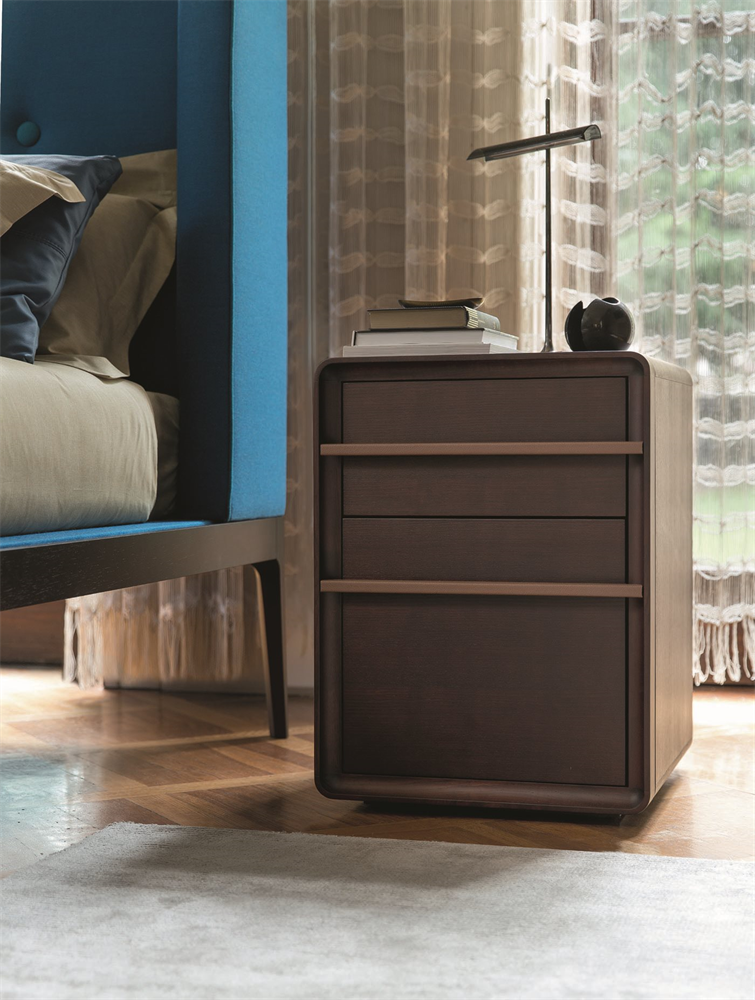 Porada was born in 1948 out of a passion for solid wood and still specializes in high-quality wooden furniture. This material lends a natural elegance to the bedroom which, added to the modern and understated taste of Porada furniture, ensures an environment capable of standing out.
Giorgetti, "sinuous and harmonious shapes"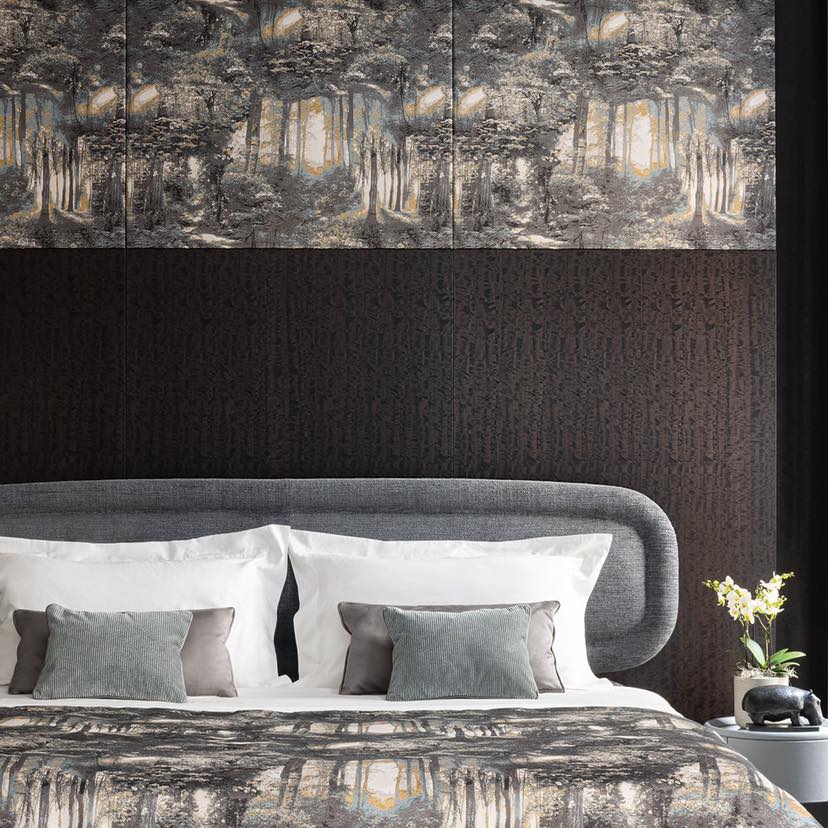 For Giorgetti, a company with over a hundred years of tradition, furnishing a modern bedroom means creating an intimate place dedicated to relaxation, where one feels protected and at ease. The sleeping area must be a pleasant environment, capable of welcoming those who inhabit it with a warm embrace.
Poltrona Frau, "living solutions"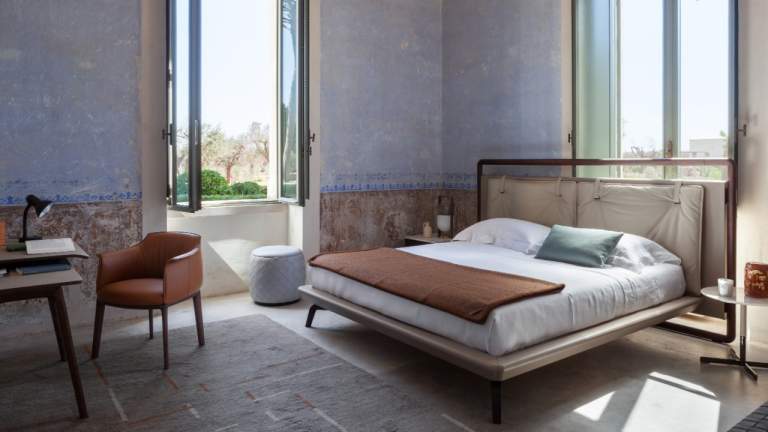 The Poltrona Frau brand is synonymous with luxury and comfort. Its furniture is designed with tradition in mind, but with an eye to the future of design.
For Poltrona Frau, furnishing the bedroom area means creating a sophisticated environment with clean lines.
Edra, "artistic tradition and technological research"
Furnishing a modern bedroom by Edra translates into a bold and distinctive choice. In fact, the Edra brand is known worldwide for offering the best in comfort and a timeless style that defines itself without chasing trends.
Alivar, "a style of furniture, a style of life"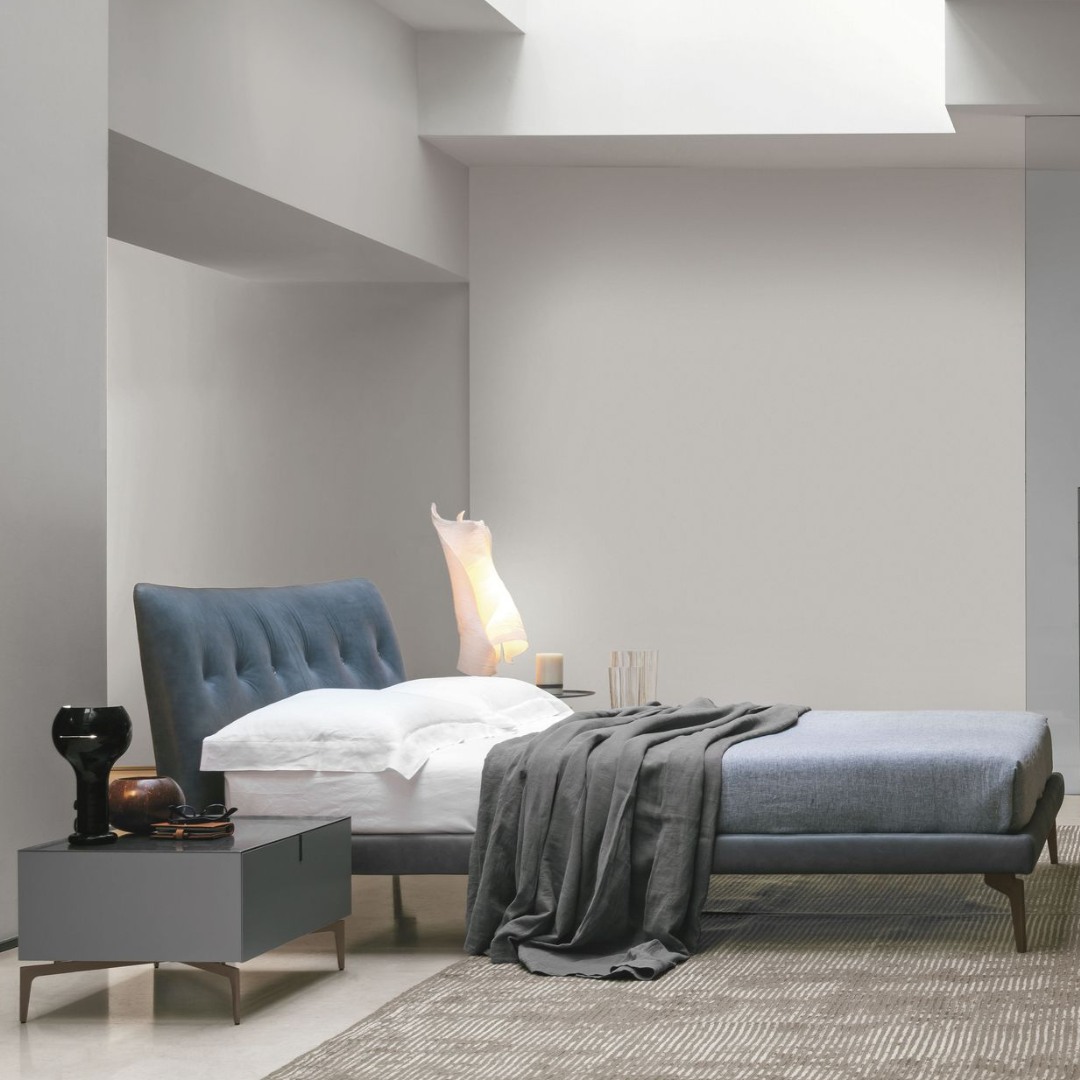 Alivar's style is mainly translated into essential lines and selected materials. Its furniture are true iconic pieces, designed to last over time. It is the brand for you if you think luxury should manifest itself discreetly, without excess, through fine workmanship and noble raw materials.
Baxter, "the pleasure of variety"
Baxter's research is based on eclectic and creative design that is never predictable. Designing furniture and furnishings is a game of style in which the rules are not followed blindly but in pursuit of a goal: to achieve an overall vision and harmonious balance, without sacrificing original combinations.
Gallotti&Radice, "the research for perfection is a constant imperfect circle"
Gallotti&Radice was the first company in Italy to use crystal as a material for furniture, without disdaining the use of other high-quality materials.
Furnishing a modern bedroom with the Gallotti&Radice brand means choosing a refined brand with special attention to details and finishes.
Minotti, "the value of impeccable details"
For the Minotti brand, its identity as a "Made in Italy" brand is fundamental. Its furniture is the result of the union between artisan knowledge and industrial precision, between sensitivity and efficiency. Relying on Minotti's know-how results in a sleeping area capable of exciting at first glance.
Molteni, "one magnificent obsession: quality"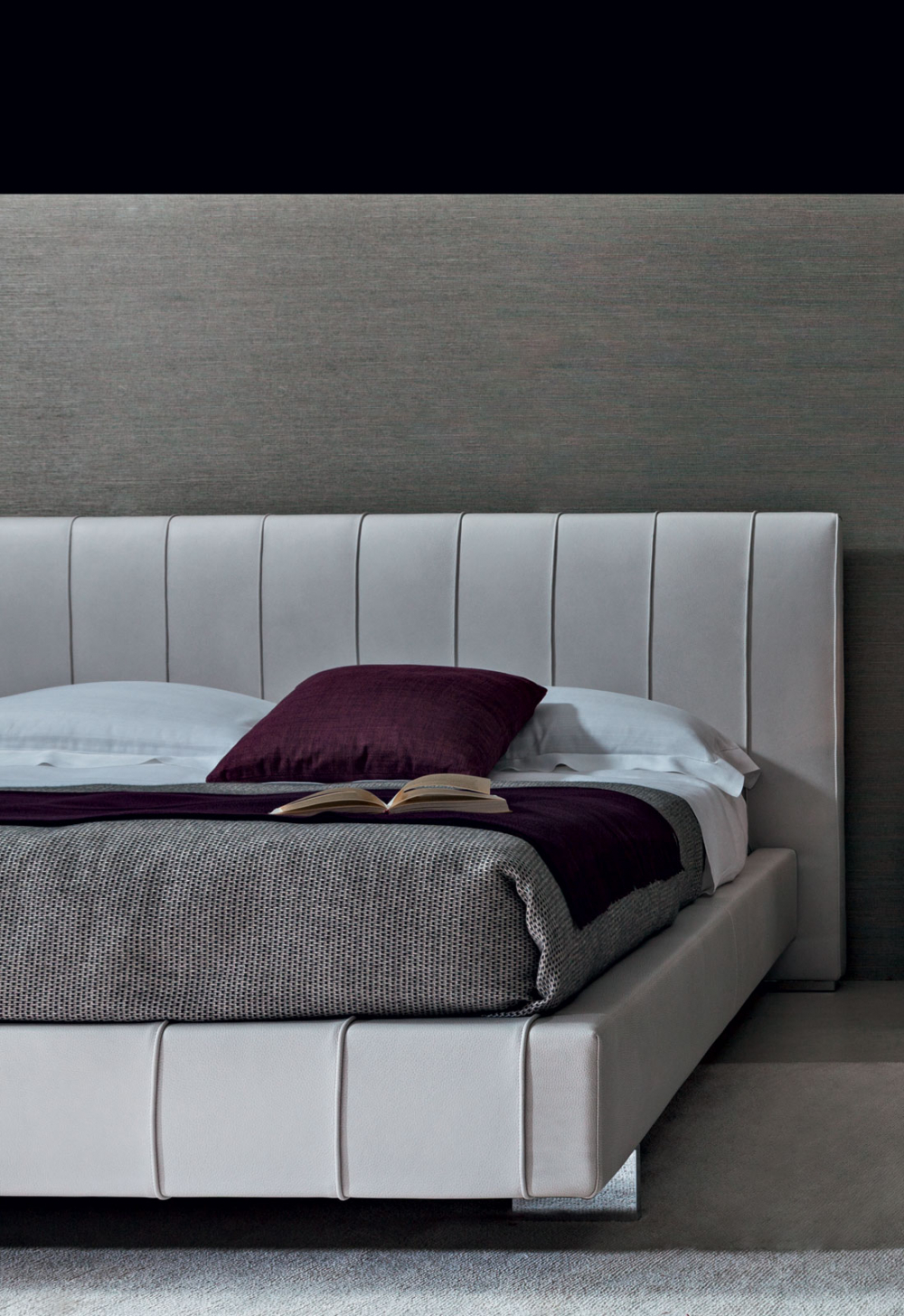 With nearly a hundred years of experience behind it, Molteni is celebrated for its sophisticated design and willingness to design furniture with its own indistinguishable style. It is no coincidence that it is one of the international benchmarks of signature design.
How to make a bedroom look modern with Cosy International
Architectural firms, interior designers and private clients need a reliable team, with a network of partners and industry professionals at their disposal.
Cosy International offers exactly that: a reference point for those who love Made in Italy design, proposing prestigious brands such as those presented in this article.
Choose to furnish modern bedrooms with Cosy International as your only partner!
Related posts