Interior Design influencers: who are the trend-setters of the moment in New York
Since our arrival in Madison Avenue, we have worked to capture the trends of the moment, from the eyes of the influencers in the field of interior design. We believe that the comparison with the best is the basis of the success of every organization and also for this reason we have selected those who, in our opinion, are the most original interior designers and bloggers, for content quality, in this sector.
Betty Wasserman Art & Interiors
When it comes to interior design in New York City, Betty Wasserman is a real institution. Wasserman launched her design business in 1996 summarizing 10 years as a private art dealer based in New York, with a keen passion for design and architecture. Her style is characterized by a warm and minimalist approach to her interior spaces. Known for the Loft Spaces and beach houses of the Hamptons; she became famous in Chelsea for renovating her exclusive loft, which serves as a showcase and testimony of her aesthetics.
In addition to her activity as an Interior Designer, Wasserman combines an effective dissemination activity. Her blog, in fact, includes all her major achievements, including the two awards as "Best of the Year" in 2007 and 2010 awarded by Hamptons Home Magazine. Furthermore, Wasserman had the honor of being published in Elle Décor, Interior Design, Metropolitan Home and New York Living, among other prestigious magazines in the sector.
Among the many works contained in her portfolio, we mention one that really impressed us. Lakefront Landing was born from the will of a family with four children and many grandchildren of designing a custom-made home for the summer season, in Landing, New Jersey. It is an exclusive home, which enjoys a breathtaking view of the lake, ideal for practicing the most diverse sports such as jet skis, rowing, surfing and, why not, swimming in the wonderful swimming pool. Wasserman combines luxury and comfort, succeeding in the aim of creating a comfortable environment for large groups, without forgetting all the warmth necessary and typical of domestic environments.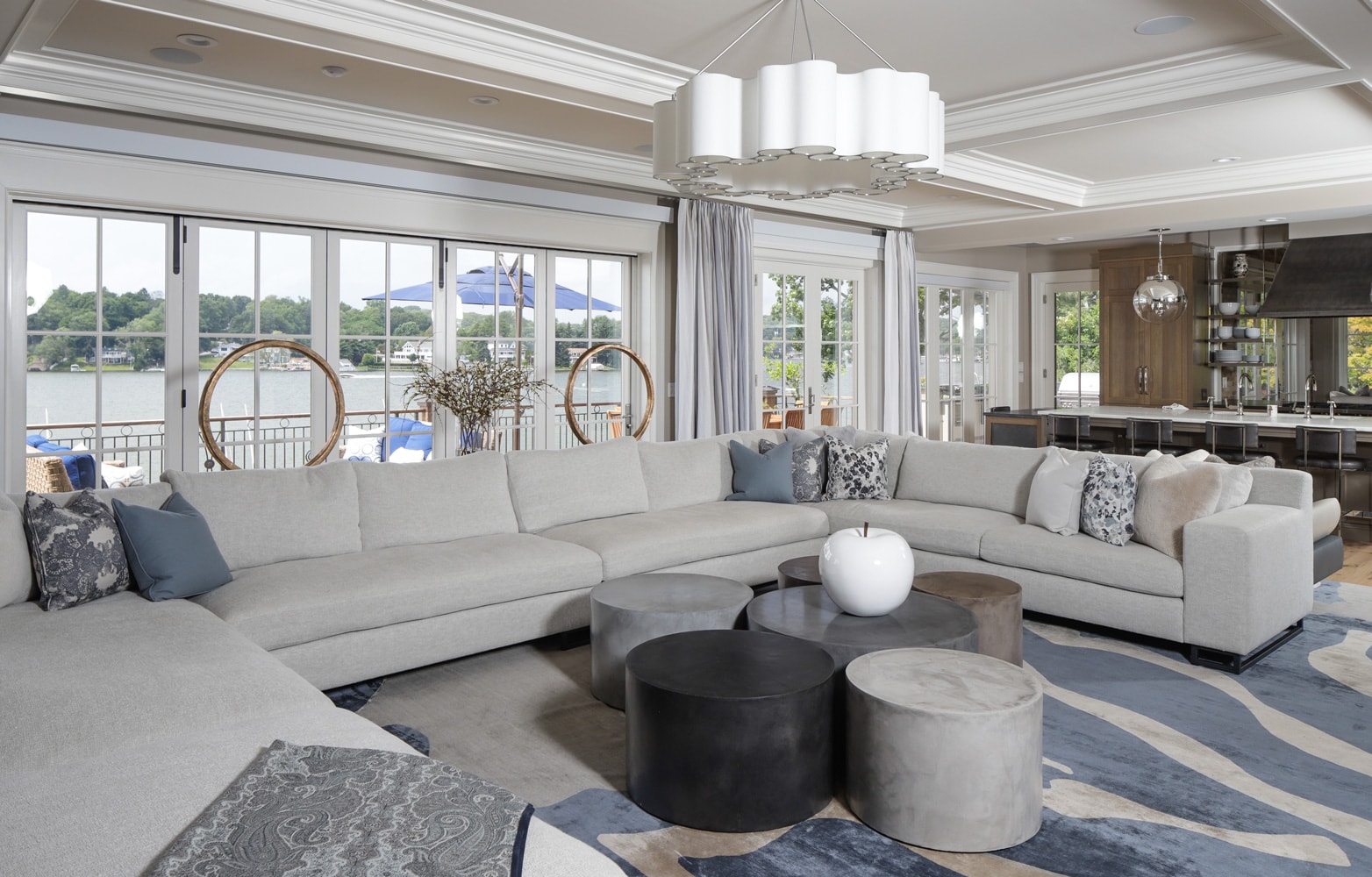 A Cup of Jo
Design influencer, but not only. Joanna Goddard, in her blog "A Cup of Jo", also talks to us about fashion, food and relationships. Among the many topics, she offers us countless advice on our career, friendship and marriage. Raised in Michigan, and after contributing to the writing of articles for Glamour, Elle, New York, and Martha Stewart Living, Goddard today works as a successful blogger in New York and is followed all around the world.
The Design section is characterized by the "House Tours", short articles describing the most significant features of some important works. In the article "This NYC Apartment Makeover Made Our Jaws Drop", Goddard describes the work done by the Hollister sisters and by Porter Hovey. The designers are famous, in New York and beyond, as they work for a company, Hovey Design, which stages homes to make them attractive for real estate negotiations, giving them the best potential and making them interesting in the eyes of potential clients. Let's take a closer look at the restyling of an apartment in Soho.
Let's see the living room before their intervention:
And after:
We can notice some changes. First of all, a greater balance in the proportions of the furniture, by adding a sofa and a couple of comfortable armchairs. The living room, in its second version, is also a more welcoming place to entertain guests with pleasant conversations. As we can see in the images, the homeowner is an art lover. The picture, however, should ideally lie no more than eight inches above the sofa. It must be possible to admire it while seated, without being forced to stretch the neck. The situation is slightly different for the corridors, where the works of art can also lie at a higher level. This is because those who frequent the corridor find themselves standing, and therefore experience a situation similar to that experienced inside an art gallery. Finally, why not try to create our own art, as Goddard suggests? After all, there is an artist in each of us, and a solid color canvas created with our own hands can personalize and give even greater harmony to our living room.
Alyssa Kapito Interiors
Finally, but not in order of importance, it is worth talking about Alyssa Kapito. Since the dawn of the company that bears her name, Alyssa has distinguished herself on the New York scene for the creation of elegant interiors, with new textures and clean lines. Alyssa has been widely recognized for her work in the field of design and was recently added to the prestigious "Elle Decor A-list" of the best interior designers in the world. Alyssa has also been featured in Architectural Digest, 1stdibs, Elle Decor, House Beautiful, Traditional Home, Vogue, The New York Times and Domino Magazine among others. She has been celebrated as one of the "7 Design Stars to Watch" and was also named a "Rising Star" by both Traditional Home and New York Cottages and Gardens. In May 2017, Alyssa Kapito Interiors was named one of the 10 best Instagram accounts to follow for Interior Design by Elle Decor and in July 2017 she was also chosen as one of the best Instagram accounts to follow by British Vogue.
Alyssa Kapito's portfolio is truly vast. Recent projects include a complete renovation of a pre-war apartment on the Upper East Side, a modern beach house in Bellport and an elegant family home in Beverly Hills. Her blog is a real must for all connoisseurs of interior design, in New York and beyond, who are looking for an innovative and modern approach, and at the same time refined and elegant.
Among her countless works, it is really difficult to choose one in particular. We chose "Soho Duplex", a project in the New York borough of the same name. Alyssa's peculiar style combines bright whites, warm neutrals and subtle decorative elements, to give the rooms an elegant, yet informal, and sober, but not cold, effect. The environment conveys an immediate feeling of peace, as if you could comfortably relax by reading your favorite book and sipping a cocktail: an ideal situation to catch your breath after a long day of work, to feel completely at home.
Design influencers, and where to find the best examples in New York City. In this article we have selected those who, in our opinion, are the best interior designers and bloggers, for the quality of their content. In Cosy International we are very attentive to trends and the latest news, to create tailor-made projects that perfectly adapt to the needs and requirements of our clients. Follow us to not miss our updates or contact us for a personalized consultation!
Enlighten your Imagination